Oct 26, 2020
Got A New Fur Buddy? Here Are 10 Essentials That Should Be In Your Pet Shopping List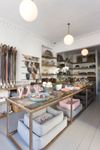 Congratulations on welcoming a new pet into your family! Bringing home a furry four-legged friend may seem like a huge responsibility at first, but sooner you'll realize how much love your new puppy or kitten can give you in return for your effort, time, and affection.
Getting ready to be a full-fledged pet parent requires thorough consideration and understanding of what you're getting yourself into. We've put together this helpful list featuring pet care essentials that will help you raise a healthy and happy pet!
1. Collar or harness and leash
A collar and leash can go hand-in-hand when having your morning or afternoon walks! They keep your pet under control, especially during the early days of dog training. For those with bigger dogs, a harness may be a better choice. Just make sure to find a good fitting one to lessen the risks of shoulder or back injury.
Cats, meanwhile, don't require a leash. But putting on a collar can help in identifying your pet in case they accidentally get out of the house. Do the same for your pet dogs and don't forget to add the emergency contact details!
2. Pet Food

You are what you eat--and a healthy diet is a must even for your pets! Before buying, consult your trusted vet which brand best fits the nutritional requirements of your furry buddy as there are various brands of pet food readily available in the market that you may be tempted to just choose anything.
3. Feeding and water bowls
Stainless steel or ceramic food and water bowls are better options than plastic ones. They are easier to clean and do not absorb the food odor, whereas the latter needs replacement every so often.
Product Reference:
https://www.thenestgenie.com/shop/product/feeding-bowl-medium-448
4. Brush or comb

A matted coat can cause extreme discomfort, pain, and pulling of your pet's skin. Use a soft-bristled brush or comb to detangle your pet's hair. Regular brushing can also stimulate oil production to make your pet's coat smoother and shinier. More than that, this can be a good bonding activity between you and your fur baby.
5. Pet shampoo
Since we're on the topic of hygiene, add a bottle of shampoo to your pet's shopping list. Pet owners nowadays are lucky enough to have a wide range to choose from. Best opt for ones that prevent fleas and ticks!
6. Toothbrush and Pet Toothpaste
Yes, your pet's teeth need to be brushed too! Regular brushing can keep your pet's teeth and gums healthy. It's a struggle to at first, especially if he or she is still new and adjusting, but you got to do what you got to do to keep infections at bay.
As much as possible, use toothpaste made especially for your fur babies. Aside from preventing them from getting an upset stomach, their teeth's enamel is softer and thinner compared to us.
If it's really difficult, another alternative to this can be giving them chewable dental sticks. These can clean their teeth and get rid of plaque and other bacteria.
7. Poop scoop and doggy bags
Be a responsible pet parent. Poop scoop and doggy bags are useful for little accidents inside your home or whenever the situation calls for it. There are also scented doggy bags in the market to help mask the smell.
8. Bed or Baskets
Your pet still needs his or her own bed even if they are allowed on yours. A dog basket or bed will keep your pet warm versus sleeping on the floor. This prevents calluses and supports arthritic joints. It also serves as your pet's safe space. Some even prefer this to crates because they keep their pets secured without feeling trapped.
Product reference:
https://www.thenestgenie.com/shop/product/luxury-dog-basket-small-449

9. Pet Gates
Use pet gates to stop your four-legged buddy from roaming to a restricted part of your house. These are usually made from lightweight materials that you can effortlessly install, dismantle, and move anytime!
10. Toys and treats

Part of caring for your pet includes spoiling him or her with toys and treats. Puppies love soft, plush, and fuzzy toys or chew toys. Tennis balls and even Frisbees are good options. Playing with your pet helps in their social development.
Tip: Don't give all his or her toys all at the same time. Choose one to two so your pet doesn't get bored. While you're at it, give him or her some treats whenever they do a good deed to help raise a well-mannered pet.
It may take loads of patience and training, but trust us when we say that their unwavering loyalty and companionship will reward all your hard work in raising them.